multi-service PDH fiber optical multiplexer, support modular access, ALS function
This equipment provides 4*10/100Mbps Ethernet+4 multifunction slots+ ALS function+Console or SNMP+LCD display,1+1 back upoptic fiber

Product description
Functions
Technical parameters
Application


TK-FO-PV-M is the multi service voice fiber optical transmission platform. it is the modular design product based on the traditional TDM, the user can configure according to requirements, and further upgrade the product.. Provides perfect solution for extending traditional E1 and Ethernet signals , low-cost business platform for the end of SDH network access , and can make best solution for different bandwidth requirements for the user.
This equipment support LCD display, 1 + 1 double optical port hot backup (APS) function, optical port ALS (Automatic Laser Shutdown/Reduction) function. It provide 4 card slots, can insert the E1 card (4*E1), voice card (4/8/16 channels FOX/FXS ), V. 35 card(2 channels V.35), serial data card (4 channels RS232/422/485); Maximum capacity is 4 card slots inserted fully. And provide 4 line speed of 100M Ethernet interface, 1 channel order wire phone. and won't occupy E1 channel carrying Ethernet signals. It support SNMP or console network management.
According to the network application, this equipment can provide audio, data and other services. Provides users with convenient operation, high elasticity application, high efficient investment, is the perfect solution for voice, data, comprehensive service .
Console management
This is for PC hyper-terminal control.management work for check current Ethernet information, check current PDH & E1 information, and configure Ethernet, or factory reset.

802.1P setting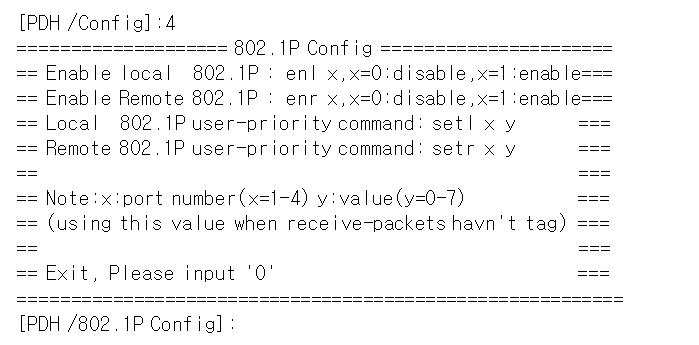 802.1Q switch setting
Telnet or SNMP Set
Telnet
Users can telnet from long-distance after collocating the IP address of the device.
Http server
This system provides simple IE browse mode. Under this mode, user can realize configuration or update operation.
SNMP software
This system provides a set of SNMP Management Software Snmp Manage to operate SNMP card and communication equipment. Please refer to the manual of SNMP software.


With LCD display on front panel, provide 4 channels shared Line speed 100M Ethernet, 2 channels transparent RS232/422/485 asynchronous data, 1 channels order wire
provide network management interface based on SNMP
offers 4 card slots on rear panel, each slot can be inserted into the following service card, support mixed inserting:
4 XE1 E1 (BNC 75 Ω)/(RJ45 120 Ω)cards
4 x framed E1 (BNC 75 Ω)/(RJ45 120 Ω)cards, can set any time slots
4 x FXO/FXS/ E&M 2/4 wire / magnet card 8 x FXO FXS/ 2 wire audio/magnet card
16 xFXO/FXS/ 2 wire audio/magnet card
2 x V. 35d data (fixed rate 2.048 M) card
2 x V. 35 data (N * 64K N = 1-32) card
4 x RS232/422/485 / switch card
4 Ethernet ports interface converter(rate 2.048 M) card